Laddonia, MO
POET Biorefining, located near Laddonia, MO began operations in September of 2006. The state-of-the-art ethanol production facility consumes approximately 17 million bushels of locally-grown corn to produce 50 million gallons of ethanol annually.

POET Biorefining - Laddonia provides a high performance, environmentally-friendly fuel as well as premium, high-quality Dakota Gold brand livestock feed for regional, national and international markets.

POET Biorefining - Laddonia was formed by East Central Ag Products, North East Missouri Grain and POET. POET Biorefining - Laddonia is proud to enhance the local economy with improved corn prices, value-added markets for farmers, good-paying jobs, and increased local tax revenue.
---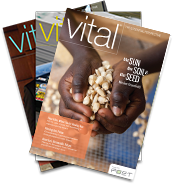 Want to stay connected? Get the latest news & information directly from POET through our print and online magazine, Vital - the Essential Perspective. learn more >>
---
Toll-Free Phone:
888-691-1126

Hours of Operation

Administrative Office
Mon - Fri, 8:00 AM - 5:00 PM
(Times subject to change)

Corn Receiving
Mon - Fri
(Times posted on bid page)

Dakota Gold Loading
7:30 AM - 4:00 PM

Ethanol Loading
24-7

Contact
POET Biorefining - Laddonia
809 NORTH PINE
LADDONIA, MO 63352
laddonia@poet.com
PH: 573.373.1260
FAX: 573.373.1261